Howdy, everyone!!!!
Still NO news to report about Frankie. He is bored as Hell in the hospital and actually, feeling better than he has in a long time. We just don't know why he is vomiting at home so much!!! I told him yesterday it may be a psychological thing. I mean, since his surgery in June, he's done nothing but throw up after most of his meals. Your brain gets used to one way of life if it's lived that way long enough, so breaking that "habit" is hard. So he eats and then thinks, "I'm nauseated, I must get rid of this nice food I just ate!" You can do that and
not even be aware
of it! So when he comes home, and when he eats, he's gonna have smaller, more frequent meals and remain still for awhile after eating. See if that helps. Who knows!
He couldn't have the upper GI test yesterday due to too much barium in his system from the CT scan contrast. So he'll get a suppository to help him "evacuate" the barium. Sounds fun! I am sooooo glad he is in the
HOSPITAL
bathroom and not ours here. I love him dearly, but with how my shoulder is and my legs, I just can't clean another thing! I'll keep ya posted on how he is coming along. Thanks for all your prayers and thoughts. We apprecriate it. :0)
I'm in the midst of washing up all our towels. "Mount Towel" was spilling over the top like a volcano that had erupted so I figured it's time to dig in and get 'em done! In the meanwhile, I thought I would give
"Meet Me On Monday"
blog hop a try! You answer five questions and get to know your fellow bloggers. Try it with me!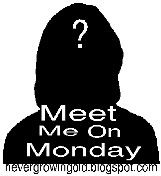 Questions:
1. What is your favorite kind of fudge?
2. Is there snow outside your window?
3. What is your favorite meal of the day?
4. Do you text on your cell phone?
5. Waffles or pancakes?
------------------------------------MY ANSWERS--------------------------------------
1. Most definitely peanut butter chocolate fudge! Yummy!
2. Nope! I haven't seen snow in over 15 years now, since moving to Arizona from freezing Michigan. I will always remember the white snow flurries of my childhood, though! :0)
LOVE
lunch. Club sandwiches, grilled cheese & turkey, hamburgers....you name it!
ONLY
one in America that
DOESN'T
text on my cell phone. In fact, I hardly even USE my cell phone. I keep it only for emergencies. Am I out of date or what??!! We can't afford those "smart" phones or the deposit we'd have to pay for any other plan, so we'll stick with Trac Phone for awhile more.
5. Oh, no doubt about it...........
The more fruity, the better!! :0)


OK, your turn now! Below is the linky for this fun blog hop. I haven't been hoppin' in awhile, so this will be fun and get my mind off my troubles for awhile. Have a great Monday, everyone!
God bless,